There is no debate as to whether Don-ld Trump is an Aerosmith fan, as he continually uses their song, "Dream On" at campaign events. Trump first received a cease and desist letter in August at an event in Mobile, Alabama. Despite receiving the letter, Trump continued to use the song and recently used it at a rally in Georgia. The letter states, "Trump for President does not have our client's permission to use 'Dream On' or any of our client's other music in connection with the Campaign because it the false impression that he is connected with or endorses Mr. Trump's presidential bid."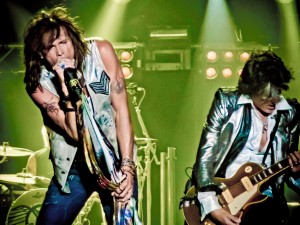 Lead member Steven Tyler is among many other musicians who have in the past confronted Republican politicians over song use. However, this cease and desist letter will hurt Trump as he is a diehard fan of the band. He even attended a concert last year and tweeted, "I attended @Aerosmith concert last night in Newark, NJ. Doesn't get any better than that. @IamStevenT was fantastic, great energy!" The two have been associated in the past as Tyler was once a judge at Trump's Miss USA pageant and they traveled to Russia together. Also, Tyler attended the second Grand Old Party debate in August as Trump's guest.
The cease and desist letter goes on to say, "We are unaware of any public performance license granting Trump for President the right to perform 'Dream On' in connection with the Campaign." Tyler's reps are also trying to protect Tyler in a few ways. They suggest that the use of the Aerosmith song would imply a false endorsement under the Lanham Act as well as an infringement of Tyler's publicity rights. The legal warning sent by Tyler's reps at LaPolt Law suggests that the use of the song could constitute tortious interference as well as a privacy violation.
The letter gives Trump 24 hours to acknowledge receipt of the letter, and if he does not comply with the demands, legal actions will be pursued. Tyler's attorney stated, "This is not a political nor personal issue with Mr. Trump. Steven works tirelessly with both Republicans and Democrats regarding copyright reform and his position has always been consistent regarding copyright and intellectual property. Simply, one must get permission from the music creators. Steven wrote 100% of 'Dream On,' and this is about the un-authorized use of his property. Steven is a registered Republican."
US copyright laws give politicians carte blanche to use recorded music at their rallies. However, in order to do so the venue has to have a public performance license issued through a songwriters' association such as ASCAP or BMI. Usually there is some leeway for an artist to bring legal action when their image and reputation is being damaged by the repeated use of a song without their permission.
Additional Readings: