By: Adam Blaier (New-Media-Editor 16′)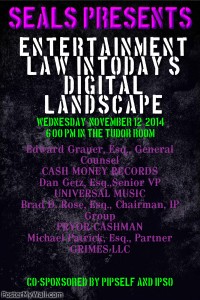 As the SEALs, IPSO, and PIPSELF get ready to host some of the best in the music & entertainment industry this week, and the IVY Sports Symposium approaches next Friday, I have some wisdom to share for the younger/less experienced students. Some people say, it's not what you know; it's who you know. Others believe "book smarts" is the end all be all. I would like to share my opinion.
I think it is a combination of both and depends on what field you plan to go into. You should do your best to keep up-to-date with the latest news in the area you wish to practice in. That can be accomplished through social media; apps like 'Flipboard' (my favorite news gathering app), or simply reading a blog/news outlet. I would put an equal weight on the 'who you know' aspect. After being accepted into the Manhattan Sports Business Academy this summer, I saw what the power of networking & relationship building can truly accomplish. I met so many amazing people in the sports & entertainment industry, and learning from them was an honor (shout out to Ben Sturner, Dave Oestreicher, and Lorne Segall).
The biggest barrier to networking is fear. People are scared to hear the word "no," or that someone won't have time for them. Being a somewhat introverted person, I had to conquer my fear of being rejected a long time ago if I wanted to succeed. A lot of people have told me I could not do something, including getting into law school. You need to put that fear aside and be comfortable with yourself. I love sports and, for me, talking to an executive of a Fortune 500 sports company was easy because I was confident. That ties into the 'smarts' part. I was confident because I keep informed with sports, entertainment, and I.P. law as much as possible. It is obviously important to read the news in general, but when trying to engage in a conversation about I.P./sports/Ent't law, my knowledge of the Arab-Israeli conflict won't help me much.
Networking is a great way to find future employment, and build relationships. I emailed over ten lawyers asking them for an informational interview, and only 1 replied. The gentleman who did reply happened to be the GOAT of I.P. litigation at one of the biggest firms in New York City. He gave me great advice, and I hope to build on that relationship.
As we prepare to have these great speakers come to Pace Law School, here are a few suggestions for people who will eventually try to seek employment in the guests companies. Wear a suit or business attire. Do not ask for an internship during the event. Make business cards, exchange them, and send a follow-up email the next day. Make sure you engage in the conversation, ask questions, and make a statement. Do not let them forget who you are. That way, when you send the email, and any future email, they will remember you. I remember speaking with Eugene Lee, Esq. for a few minutes when he came to visit Pace last year. I met him again in the summer with MSBA, and he remembered who I was. It is a nice feeling, and I know I have a positive relationship to build on going forward.
So to those who say it's not what you know; it's who you know, and the others who say 'book smarts' is the only way, I politely disagree and say they are both important, you just need to utilize them the right way.